Trench Filling Low Viscosity Dispensing Pumps
Trench filling is the process of dispensing fluid into an open channel, typically between certain devices, to assist in the production cycle. Trench fill materials are lower in viscosity so they auto level for a uniform fill height after curing. Materials may be UV or heat cure.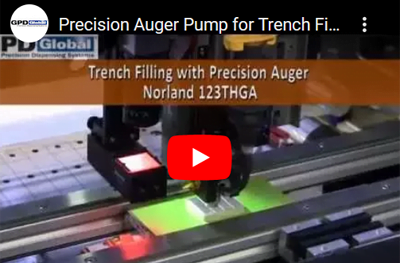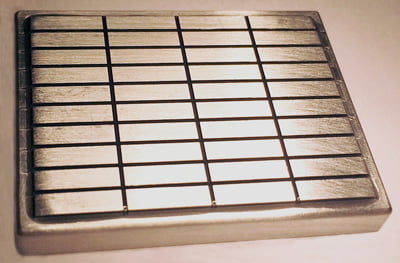 Trench fill may be accomplished with Precision Auger Pumps or Volumetric PCD Pumps. Pump selection is based on fluid properties. The Precision Auger Pump is well suited to higher viscosity fluids and those with fillers that can be abrasive to other dispense pumps. The Volumetric PCD Pump series handles low viscosity fluids with no drip or drool. The flow rate can easily be adjusted based on process requirements.
Trench Filling can be affected by nozzle selection. Our standard Precision Dispense tips for the Precision Auger pump are available in sizes down to 100 µm and are made of either steel or ceramic for improved wetting. Both pump types are also compatible with our S Type Tapered Luer tips for optimal process control.
Couple Precision Auger Pumps with Real Time Process Control System (FPC) for improved dispensing results over the full fluid content of a syringe. Real Time Process Control ensures a constant supply of fluid to the pump regardless of reservoir size or fluid level. FPC monitors the pressure of fluid entering the dispense pump and makes adjustments to the reservoir feed pressure, resulting in a consistent feed to the pump.
GPD Global's fully automated dispense systems have features necessary for a successful dispense process such as fiducial alignment, surface sensing on multiple levels, and the ability to program complex patterns that may be recalled as needed. Compatibility with our full range of dispense pumps and the ability to use up to three in a single process make our systems extremely versatile.
Additionally, we offer a retrofit kit so you can integrate Precision Auger Pumps and the PCD Pump Series into your platform. Retrofit kits come complete with a controller and the necessary interface cables and mounting.
Trench Filling Low Viscosity Dispensing Pumps Recommendations