Programmable Zoom / 2X Extender / High Depth of Field Lens
Programmable Zoom
ClearVu Vision Alignment is a programmable zoom and focus lens available on all MAX Series and DS Series platforms. ClearVu Vision allows the system to align on features that are otherwise too small for use as the basis for accurate alignment.
Additionally, for products on which multiple surfaces will be dispensed, vision alignment ensures accurate alignment rather than setting the focus of a fixed lens in the middle ground and never obtaining a crisp image. ClearVu Vision simplifies the complex setup requirements of sub-miniature substrates, variably-sized components, and multi-level assemblies for a variety of production environments.
ClearVu Vision allows the operator to zoom in on miniature features that are 0.010″ (0.250 mm) square or smaller, thereby vastly improving alignment accuracy prior to commencement of the dispense program. It also features a unique multi-level, programmable focus that allows the system to use alignment features on various levels of a product.
ClearVu Vision is also compatible with the optional FullView Illumination system that couples an on-axis and low-angle dark field illumination system.

Depth of Field at Zoom Levels
Zoom Level
Depth of Field
mm
inch
0%
19
0.74803
100%
14
0.55118
Field of View at Zoom Levels
Zoom Level
Field of View Area
at 57 mm (2.25″)
Pixel Resolution
mm
inch
mm
inch
0%
12.0 X 9.1
0.472 X 0.358
0.018
0.0007
25%
8.9 x 6.6
0.350 x 0.260
0.014
0.0005
50%
3.4 x 2.6
0.134 x 0.102
0.005
0.0002
75%
2.3 x 1.7
0.090 x 0.065
0.003
0.0001
100%
1.0 x 0.8
0.040 x 0.031
0.002
0.0001
The 3 images below are ClearVu Vision at 0%, 50% and 100% magnification. Substrate is 0.2 mm diameter at a 0.4 mm spacing (0.008″ at 0.0157″ spacing).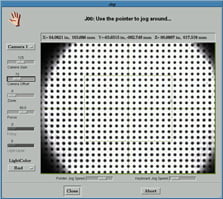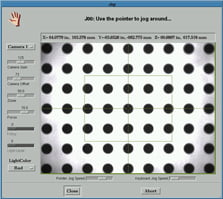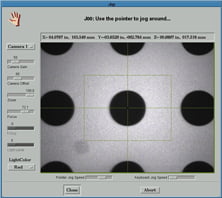 2X Extender – Magnifier
The 2x Extender is an option to add to the standard lens. It increases the magnification of a standard lens by 2x for fiducial alignment and programming on products with small features. NOTE: 2x Extender is not compatible with ClearVu Vision.
The 2 images below are the same substrate as shown above with a 2x extender and standard lens on the camera.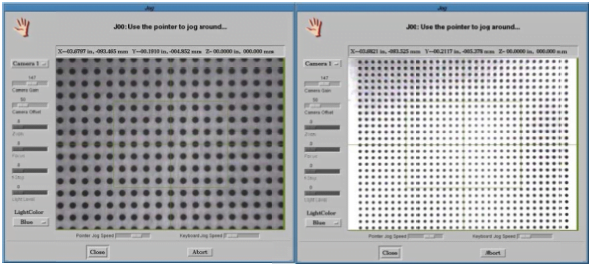 High Depth of Field Lens
The High Depth of Field Lens is a Telecentric type lens that increases the depth of field of the camera. Substrates that have different surface levels remain in focus and do not require the operator to make manual focus adjustments. The Telecentric lens offers a crisp, non-distorted image which enhances feature alignment. This add-on option increases the reliability of fiducial and feature findings.
Programmable Zoom Information